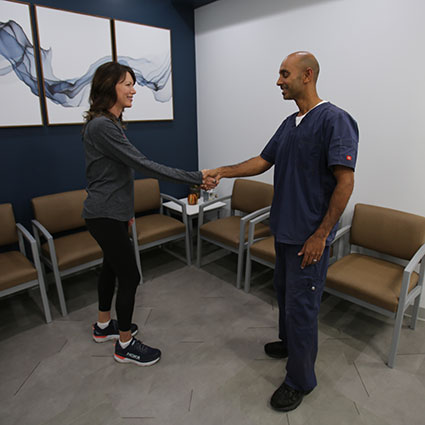 Integrated Healthcare Centers Reviews
What Our Chantilly Patients Say
At Integrated Healthcare Centers we love when patients share with us their feedback and comments after chiropractic care. Please read our patient testimonials below to see what other people have achieved through their tailored treatment plans with us.
Share your stories too! Click here to send us your feedback so that we can help to spread the word about the benefits of natural Integrated Healthcare Centers care.
For more information, or to schedule an appointment contact us today.

Highly Recommend
Doctor Verma is the best! I have been experiencing back pain from a herniated disk that was putting pressure on my sciatic nerve. As you can imagine, it was extremely painful to deal with and thank goodness for Dr. Verma's help. He was able to diagnose the problem and quickly implement a treatment plan to help me get better. He is very professional, helpful and knowledgeable- and most important, he listens to his patients. He also educated me on how to take better care of my body and help the healing process along to ultimately avoid long-term medication and invasive surgery options down the road. I also appreciate his holistic and common sense approach to healing. I know how back pain can affect your life and well-being, but there is hope and I highly recommend Dr. Verma to help!
– Sanaa B.
Forever Grateful
Dr. Verma is THE BEST chiropractor I have ever been to in my life! I had severe back pain for more than 3 months, I was unable to walk, sit and even drive. Luckily one day, I got to know about Dr Verma and I started feeling so much better right after my first session. He narrowed down the root cause and did the right treatment for me. He is such an amazing professional and very knowledgeable. I am very thankful that I met the best chiropractor in our area. I will forever be grateful to Dr. Verma. Thank you!
– Sri Y.

Integrated Healthcare Centers Reviews | (703) 957-3373