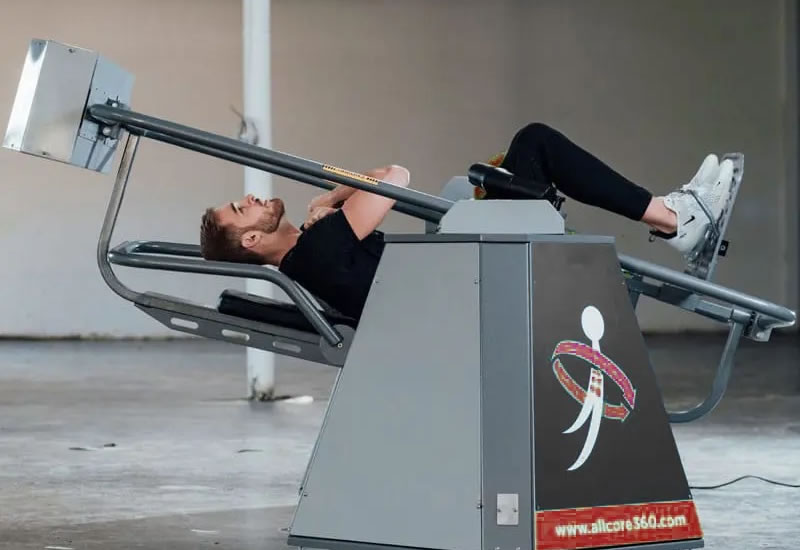 If you've ever heard that you shouldn't lift with your back, you know that spine health isn't about strength—it's about stability. We use the
AllCore 360
to stabilize the muscles of your spine, improving your posture and relieving pain in the back and neck.
Building Up a Stronger Core
AllCore 360 was created over 20 years ago by an injured chiropractor looking to stimulate the muscles in the core automatically, without having to do exercises like sit-ups or planks. He was able to get back to activity pain free with Allcore 360. It can also help with inner ear vertigo, stroke recovery, concussions, and dizziness by stimulating the brain.
The AllCore 360 looks like a piece of NASA training equipment, but it moves slower and doesn't cause feelings of dizziness or nausea. During a session, you'll be harnessed into the seat while it spins slowly clockwise and then counterclockwise in one-minute intervals. We'll be right there with you, monitoring your progress the whole time.
This technique works by stimulating core muscles to contract within your body. We have a high success rate, as most every patient who has finished 12 sessions told us they feel stronger, firmer, and more stable. Most importantly, our patients are able to do more of the activities they love.
Perfect for Athletes—and Everyone
One professional golfer came to us when back pain compromised his game. We put him on the AllCore 360 for two months, without any chiropractic. As his back pain cleared up, he started swinging harder and faster, and his balance improved. He's now winning tournaments again.
Another patient who was almost 90 came in with two bad knees and two bad hips. Her goal was to step in and out of her bathtub without feeling like she was falling. Within a few months, she was walking, moving, and entering the tub confidently.
Schedule an Appointment
Everyone can benefit from increased core strength, whether you're hoping to get out of pain or boost your game. Book your visit today!
Contact Us